Food for Thought: Warren Bennis on Leadership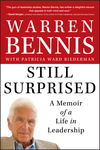 It's one of the most-asked and often-pondered questions: What makes a leader?
According to Warren Bennis author of several books on leadership including the bestselling Leaders and On Becoming A Leader says two traits make up the strongest leaders:
The capacity to build a team that is compatible and aligned. You'll come across people with great resumes but, Bennis asks, can they play well together in the sandbox? Leaders can't do it all alone, he explains in a recent Harvard Business Review podcast, that's why it's critical to have players that are focused on the same goals.
Sound judgment. One of the most powerful ways to exhibit your skills as a leader -- and earn the respect of your team -- is to use sound judgment in decisions both large and small.
Also, Bennis says, you really need to understand why you want to be a leader. And, you must fully understand the consequences if you fail in your job as a leader. If things go wrong are you prepared to make a comeback?
Listen to more
of Bennis' thoughts on leadership, and find out more about his new book, titled
Still Surprised
,
here
.